Regular price
Sale price
$3.00 USD
Unit price
per
Sale
Sold out
Shipping

Immediatly after purchase you will receive a download link.
Returns & Refunds

There are no refunds on downloadable products.
Paper Sizes

Files will print on USA and Metric paper. Be sure to select the select the appropiate paper size in your printer settings.
Fun and simple to make. Sounds just like a Cicada, Cicale or Semi as they are known in Japan. The real insects make noise up to 120 db, and my 4-6 year olds seemed to try their best to exceed that.

The sound is made from the vibrations of the rubber bands between the two large wooden popsicle sticks, like air passing over your vocal chords.

I did this activity with my regular 4-6 year old ESL students at an international school in Tokyo. I had just as much fun with my 9 year olds one summer afternoon too. I focused on having fun making an instrument with younger classes, but with older students you can begin to focus on how sound waves work. This really is one of those rare activities that suits all ages. A number of teachers from my school even dropped in to make one for fun. Give as a birthday present !
The instructions are straightforward and clear, in easily identifiable steps, and illustrated with colour photos.

You will need the following per student:


3 page set of instructions, (stapled together to keep them in sequence!)

2 Large lollipop sticks

2 Small rubber bands

1 Large rubber band

1 Straw

1 Pen

1 Pair of scissors

From experience I'd recommend checking in advance that the class next door has not scheduled a quiet reading or writing session.
Share
View full details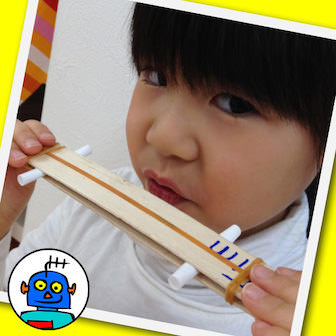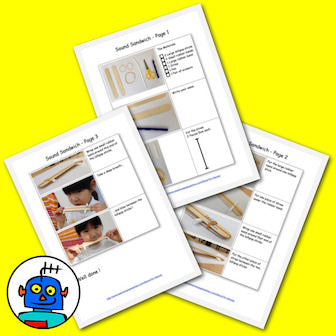 Class Examples
Concert

The Sound sandwich Instruments can get really loud when played by excited children. Do please check in advance that it isn't nap time in the room next door.

Exhibition

Here the students crafts are displayed, along with the color instructions included with the download.