Regular price
Sale price
$3.00 USD
Unit price
per
Sale
Sold out
Shipping

Immediatly after purchase you will receive a download link.
Returns & Refunds

There are no refunds on downloadable products.
Paper Sizes

Files will print on USA and Metric paper. Be sure to select the select the appropiate paper size in your printer settings.
Color the parts of the face. Arrange the face and eyebrows to make smile smiles and frowns! Minimal preparation. A printer and a guillotine and you are good to go.
pdf 1
Banana mouth
Pear nose
Fries / Chips eyebrows

Orange eyes


pdf 2

Banana mouth
Broccoli nose

Ring donut eyes

Fries / Chips eyebrows


Each pdf page has 2 sets of food craft templates.
Print one of page for every 2 students in your class.

Preparation

Guillotine - no prep time wasted cutting out circles. I had to make 220 of these one day so designed it to be prepared quickly.

Per student

x1 Set of facial features x1
Paper plate x1

Glue stick x1

Set of color crayons or pencils x1

Suggested resources


In class


Model a completed version of the craft
Elicit the food names and face parts
Show how the face and eyebrows can be re-arranged to make happy, angry and sad faces
Children glue the parts of the face to the paper plate. It's always tempting to help "correct" them as they stick them all over the place, but let them create this independently.

Once everything is stuck down then they can colour everything.

As an option tape a large popsicle stick or chopstick to the back of the face to make it into a puppet.

Extension

Ask the student how their puppets feel
Sing an emotions or food song
Use the faces for role play

Use real food next time

Share
View full details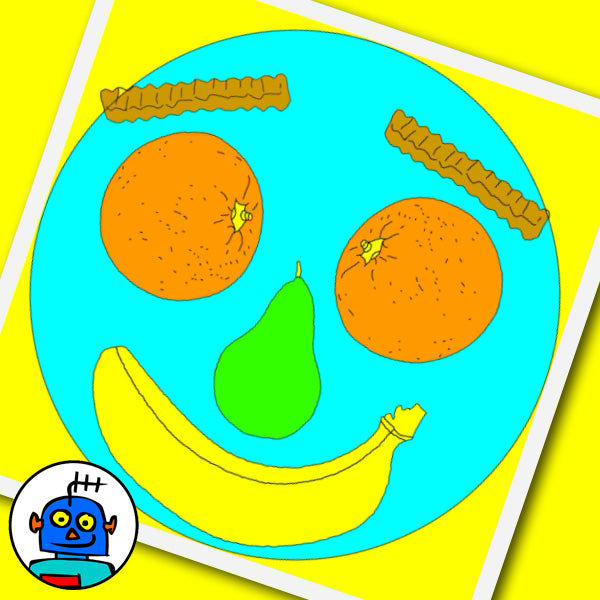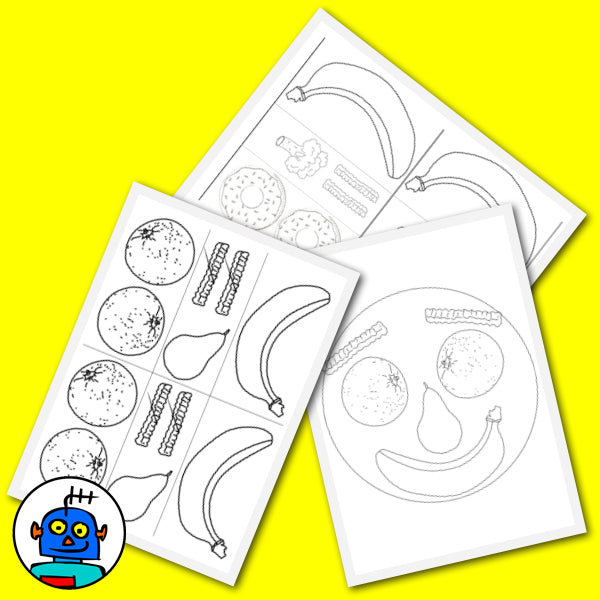 Class Examples
Hair

Add some colored wool for hair. When preparing this craft I print them out then use a guilotene to chop them up into squares and rectangles. It depends on the age and motos skills of the child as to whether they trim the food with scissors.

Food items

Chips / Fries for eye brows, oranges for eyes, pear for a nose, banana for a mouth.

Emotions

The face parts make this cratf great for teaching emotions too. The eye brows are expresasive so can look engry, surprised or happy, and the banana can be inverted to look unhappy.

Celebration

Whenever possible create a wall display to celebrate the children's work. Telling the students that you will do this in advance and they will naturally try a little harder with their craft. Encourage parents to come into class and take photos of it. It's great for the kids and does no harm in promoting your skills either.

Looks good

A strenght of this craft is even students with lower motor skills of concentration may still be successful.

Matching smiles

Grab a photo of the strudent smiling the same as their plate.