Regular price
Sale price
$3.00 USD
Unit price
per
Sale
Sold out
Shipping

Immediatly after purchase you will receive a download link.
Returns & Refunds

There are no refunds on downloadable products.
Paper Sizes

Files will print on USA and Metric paper. Be sure to select the select the appropiate paper size in your printer settings.
Printed in Black & white for students to color:
Aquarium tank
Air pump, with bubbles
Gravel
Heater
Plant
Fish - callicto, guppy, platy and tetra. Additional spaces for children to draw the fish themselves.
Worksheet
Fish tank item image, text, space for student to write item name
Clip Art - create your own additional content if required
Fish
Aquarium tank elements

Photos
My 4-6 year old ESL students loved this craft, excitedly running back and forth between our fish tank and their desk to make sure it was all done "just right". They were so excited after school that I ended up inviting all the parents in to see the fish and to listen to their children tell them all about it.


The Craft
All printouts are black and white as your students will be coloring these themselves by observing the fish in your class.

The Worksheet
You may need to customise these to match the fish you have. I'd recommend getting at least one that looks like Nemo if you can.

Fish Tank Word Game
You can use this as a fun introduction to new vocabulary and is one of those rare games that can be played equally by children of any language ability.

Print one word sheet per student, plus one for yourself.
Chop words into strips (with a guillotine is fastest)
Sit with all the children in a circle with the word strips all shuffled in a heap in the centre.
Call out a word eg "Guppy".
Using chopsticks the children pick up the word strip.
If you don't have chopsticks then paint brushes or long pencils will sufice.
Once you have played a few rounds ask random students to call out a word.
Number of Pages: 21
Share
View full details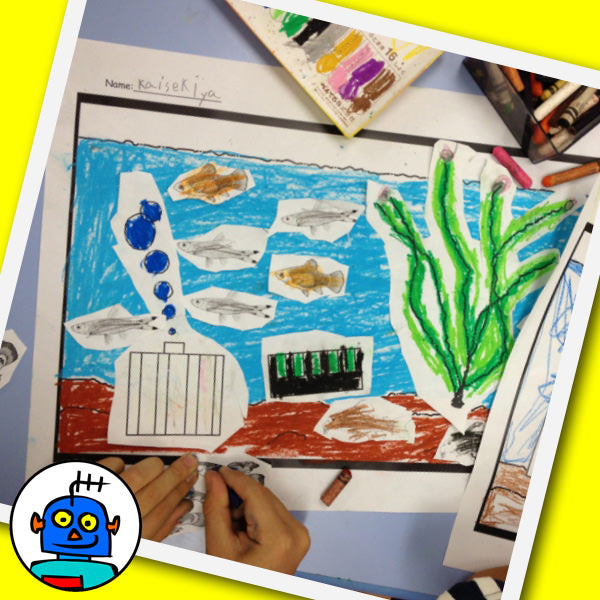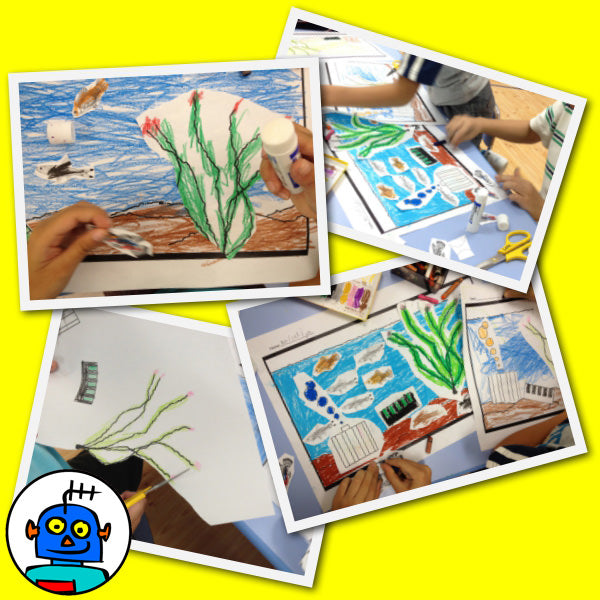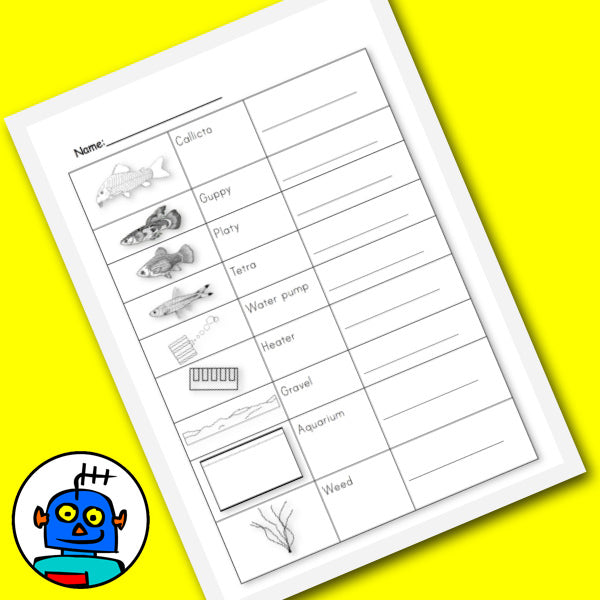 Class Examples
Water

A nice eay sdtart - colour in the water blue.

Fishes

Cut out and glue down the fishes

Cut & Paste

Focused independent work.
Craft Resources - Amazon
Crayons

Crayola Mini Twistables Crayons Coloring Set (50 Count) For Kids Ages 3+

View in Amazon

Crayon Tub

Bulk Crayon Set. Each pack has 2 of each color.

View in Amazon

Glue Sticks

Elmer's Disappearing Purple School Glue Sticks, Washable, 6 Grams, 12 Count

View in Amazon