The Simones
The Simones - Official Website Of The Best Band In Japan 2014-2015
Welcome
The Simones are a six piece rock n' roll band that played on the Tokyo circuit for over two years.  

Their eclectic style matched the metropolis they played in; unique and irreverent while combining the best of all worlds.  

The Simones paid homage to musical greats mixed with their original composition and explored all genres, which meant just one thing - it was all good and all fun!

The band has sadly scattered to all corners of the globe, quite an achievement given the globe is a sphere, not a cube, but never the less, I'm sure if the royalties from the sales of I Wanna Meet Koda Kumi keep flowing in that there is every chance they will reform.

We had a great time and thank you for being a part of that trip. We shall meet again I'm sure.

The Simones のフロントマンDJMAXのバックアップバンドとしてスタートした4人組は ロックをこよなく愛すロックバンドとして独り立ちした。 彼らのエレクトリックかつユニークで肩の力の抜けた音楽スタイルは活動拠点であるメトロポリタンシティ、東京にマッチしている。独創的な作品に織り込めた音楽の偉人へのリスペクトとすべてのジャンルへの熱い思いが重なり、音楽とは楽しむものなのだという彼らの1つのメッセージへとつながっているのである。 写真下左から Dave White ベース、 Dave Antich    ボーカル、 Dave Seward     リードギター、 Bradley "Dave" Bennett   キーボード ファーストアルバム"Hand Claps And Finger Snaps" は今年リリース予定。また彼らは現在、英語学習用の子供達への楽曲も制作している。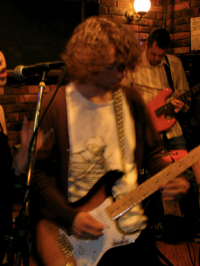 Dave S
Dave S has been playing guitar and singing in The Simones since they started in 2007. 
Favourite guitarist is John Lee Hooker, and perhaps John Frusciante and Kurt Cobain being in the top 3. 
He loves listening to all kinds of music, but is a grunge boy at heart. 
Came to Japan from England about in 2005 and has never looked back. 
Still spells colour and favourite with a "u". Been working as a kindergarten teacher of English to Japanese children all that time and loves the job. 
Biggest love: playing live. Biggest fear: breaking a string whilst playing live (again).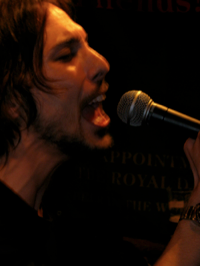 DJ Max
DJ Max is a person who lives in Sangenjaya, Tokyo. 
He sings songs in a band called The Simones. 
Sometimes he brings his friend Chad to band practice. When Chad is happy, he likes to play with the band. 
DJ Max has lived in Tokyo for five years. He teaches English to kindergarten kids for money. 
He enjoys watching movies and drinking alcoholic beverages.  
He is neither a DJ nor a Max.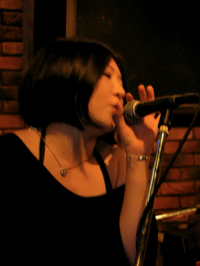 Yuriko
Yuriko joined The Simones in 2008, bringing flare and pizzaz with her jazzy trombone and smooth vocals. 
Is not dating any of The Simones. Is dating The Simones official cameraman. 
Hailing from Chiba, she spent 3 years in the UK working as a fashion designer. 
She has been playing the trombone for 6 years with brass bands, The Simones being her first venture into rock world. 
Spells colour and favourite with a "u". Dream: to retire and live somewhere in Spain, to take part in "La Tomatina" (the tomato festival).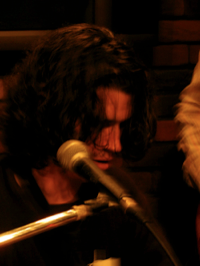 Charlie Crest Drive 
Charlie Crest Drive joined the Simones with his friend Dave who plays the guitar.

He hopes to be the Keith Richards of the band, though I am not as cool as him...but there is always the future. 
He smokes cigarettes.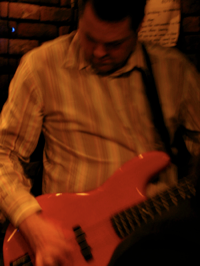 Mr. White
Mr. White plays bass. 
Being the oldest member of the band, he can often be found dozing at the bar or mumbling to himself about the cost of living these days and how young people have no respect for their elders.
A confirmed Smiths fan, he's can clearly remember seeing them live on the Meat Is Murder tour in Birmingham, UK. 
Most other memories are a vague blur.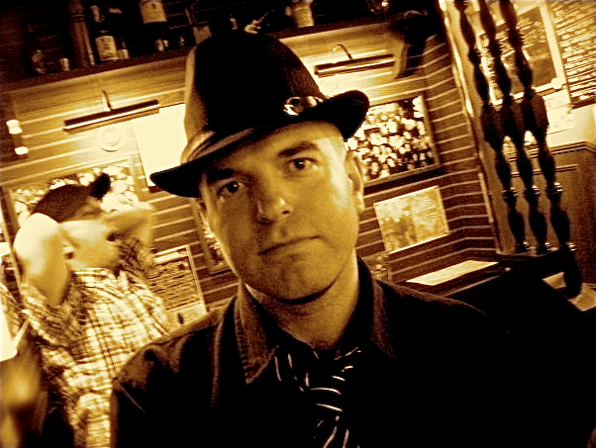 Andy (or Tyrone)
Andy (or Tyrone) bangs drums. 
He is the second youngest member of the group although he looks a day older than the others. 
He met the band in a sheep when Charlie Crest was briefly out of his mind. 
The last to join in 2009, much to the annoyance of Chad the drum machine.

Favorite stickman: Stephen Morris. 
Eats natto. Drinks stout.
The Simones I WANNA MEET KODA KUMI and HOLA CHICA Live
Best Selling English Flash Cards
Choosing a selection results in a full page refresh.
Opens in a new window.